Print This Page
Fluoride Contamination on the Rise in Texas Groundwater
Water drips out of almost every facet — and faucet — of Texas. With the state ranking in the top three for groundwater use, it is important for all that water be clear of contaminants.
However, researchers from Texas A&M AgriLife Research have found that fluoride contamination has been increasing in Texas groundwater since the 1960s. The findings were published in the Journal of Environmental Quality.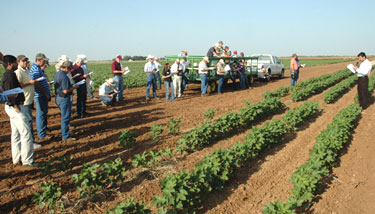 Srinivasulu Ale discusses groundwater quality in the Texas Rolling Plains with producers, ranchers, and extension personnel at a summer field day at Chillicothe Research Station. Photo by Kay Ledbetter.
Many people actually know fluoride as a water additive that prevents tooth decay. But at higher levels the chemical can cause numerous health problems, such as damage to teeth enamel, bones, the liver, kidneys, and brain.
"The reasons behind the contamination are numerous and complex," said Srinivasulu Ale, an assistant professor at A&M and one of the study's authors. "The soils, geology, temperature, precipitation, well depth, and use of certain phosphate fertilizers are different in different parts of Texas, and they all affect fluoride concentrations."
The acceptable concentration of fluoride ranges greatly depending on the organization crunching the numbers. The United States Department of Health and Human Services recommends a minimum fluoride concentration of 0.7 parts per million (ppm) in groundwater to optimize the prevention of tooth decay, and the World Health Organization suggests a threshold concentration of 1.5 ppm, above which fluoride can cause detrimental effects.
The United States Environmental Protection Agency has established an enforceable maximum contaminant level of 4 ppm, to prevent serious skeletal damage, and a secondary (non-enforceable) threshold at 2 ppm to guard against enamel damage.
Sriroop Chaudhuri, a former post-doctoral research associate at A&M and the lead author on the study, said different organizations have different mandates because their priorities and goals are diverse. Ideally, though, the fluoride concentration of water should be between 0.7 and 1.5 ppm to guard against both deficiencies and high concentrations.
The study assessed fluoride concentrations in three main water use classes: domestic, public supply, and irrigation wells. A domestic well is one where an individual landowner gets drinking water from his or her own well. Public supply is when the water is provided by an agency such as a city or municipality.
Researchers analyzed water quality information from the Texas Water Development Board database for wells in the state's 16 Groundwater Management Areas. The board created these areas to keep an eye on Texas groundwater quality.
"We are very thankful for the development board's sustained effort to build this large database on both groundwater quality as well as groundwater levels," Chaudhuri said.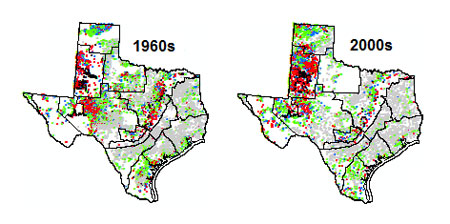 Maps of Texas from the 1960s and 2000s showing different fluoride concentrations at various sites. Red and black dots mark high levels of fluoride contamination (2 - 4 ppm and above 4 ppm, respectively), while gray dots mark low levels of fluoride (below 0.7 ppm). Figure from paper, courtesy of Srinivasulu Ale.
Using the World Health Organization's contamination threshold, the researchers found that the number of wells in the domestic class that were above threshold increased from 21% to 32% between the 1960s and 2000s. During that same time frame, wells above threshold increased from 21% to 22% in the public supply class and from 47% to 53% in the irrigation wells class.
However, average percentages can be deceiving — some areas had very high contamination while others actually had very low levels of fluoride. Inadequate fluoride levels characterized parts of eastern, central, and southern Texas. In stark contrast, the researchers found hotspots of fluoride contamination in areas like West Texas and parts of north-central Texas, where some wells even registered up to 10 ppm.
Looking ahead, the researchers hope governmental agencies and ordinary Texans alike notice their work so actions can be taken toward possible solutions for excessive fluoride levels.
"As far as solutions, first of all we are talking about a concentration so we need to dilute that contaminated water by working to have more artificial recharge zones to get more water in to the aquifers or use captured rainwater to dilute it," Ale said. "Other methods for alleviation include chemical removal of the fluoride. Most important, I think, is educating people because in a lot of these rural areas, 99% of people depend on groundwater, and they often don't test it."
Soils.org, Kaine Korzekwa, 08/28/14